Adelaide company to make 145 million face masks for Australia's frontline health workers
Hundreds of manufacturers have pivoted to making coronavirus-related supplies as the Federal Government desperately tries to save millions of jobs during the devastating pandemic.
Adelaide business Demtold, which usually makes packaging for fast-food giants including McDonald's and KFC, will soon start pumping out surgical masks for front-line health workers.
About 145 million masks will be distributed nationally, with 45 million to stay in South Australia.
Federal Industry Minister Karen Andrews said the company would employ an extra 160 people.
"This is absolutely pivoting at its best," she told Seven's Sunrise on Tuesday.
"I am so proud of the Aussie spirit, I'm so proud of Detmold."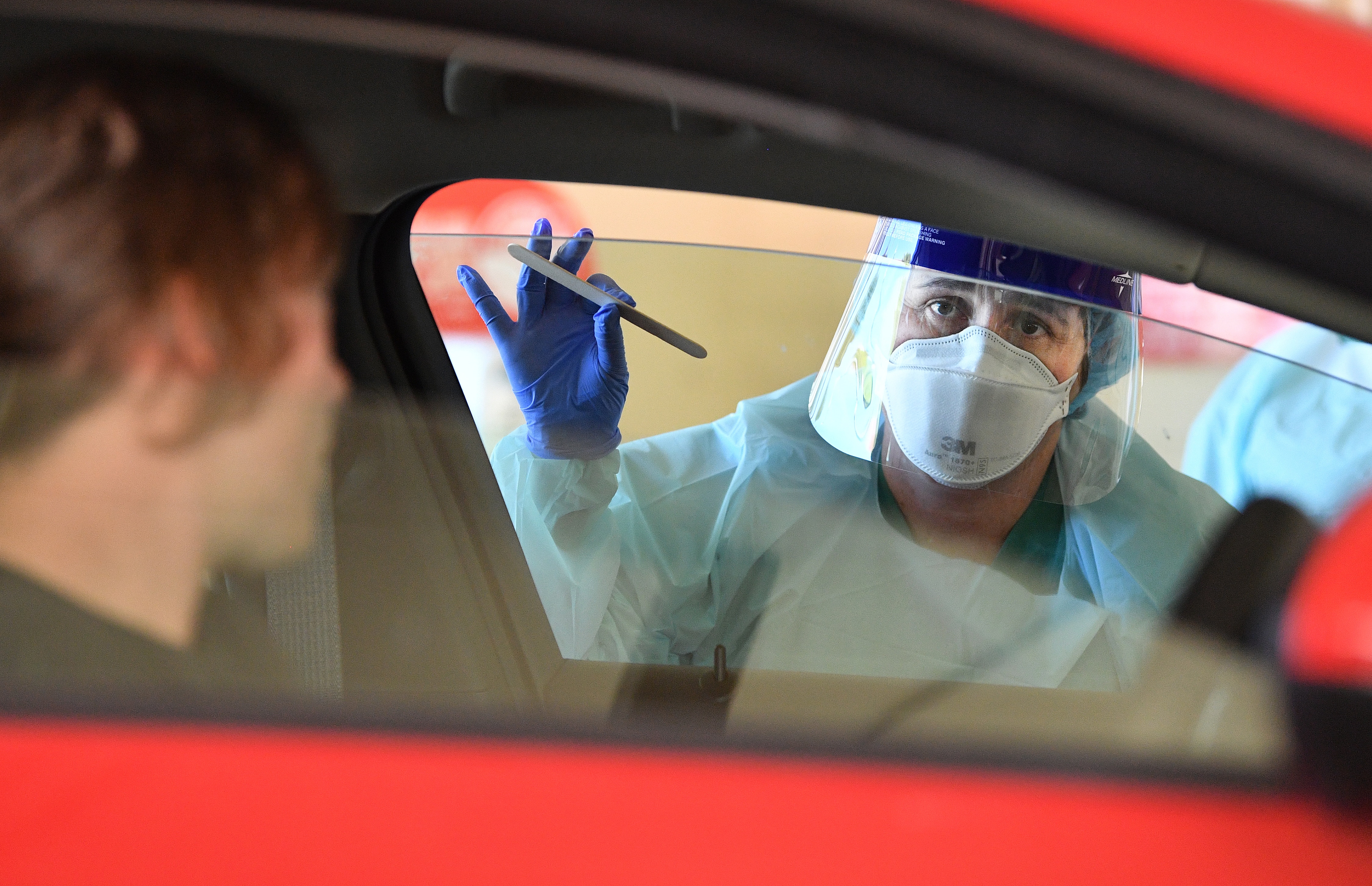 South Australia Hospital staff simulate a drive-through coronavirus testing at the Repatriation Hospital in Adelaide, Tuesday, 10 March, 2020.
The minister will sit down with clothing and textile manufacturers later this week to address the need for more surgical and hospital gowns.
"We put out a request for information about maybe two weeks ago now and there's already been over 340 businesses put their hand up, saying they're prepared to do what it takes," Ms Andrews said.
Distilleries, wineries and breweries are making hand sanitiser, with the government cutting red tape to feed soaring demand in the health care system.
Ms Andrews conceded there were concerns among some general practitioners about accessing masks.
"What we are doing as a government is looking at importing masks where we can, but stepping up the production here in Australia - that's exactly what we're doing," she told ABC News Breakfast.
The Federal Government will spend $130 billion to provide coronavirus-hit businesses with a $1500 fortnightly wage subsidy for each employee.
It's the biggest stimulus package in Australia's history, taking the government's spending commitments to $320 billion or 16.4 per cent of gross domestic product.
More than 110,000 businesses have registered for the subsidy, which is designed to save six million jobs over the next six months.
"Once we get to the other side of this coronavirus, we want the economy to bounce back strongly," Treasurer Josh Frydenberg told Sky News.
There's also measures to keep essential services going during the outbreak, with truck stops and roadhouses given an exemption from shutdowns.
More than 4,200 cases of coronavirus have been detected across Australia and 19 people have died.
***
To engage in helping and supporting our community members impacted by Covid19, providing information, events, news, forums, and critical connection and collaboration opportunities during this time of mass isolation, join our community at COVID-19 Support Group.
Not yet a member? Get connected and be inspired by more incredible Latin American and Australian professionals. Join the growing Somos21 Community.
The post about "Adelaide company to make 145 million face masks for Australia's frontline health workers" first appeared on the SBS website.
---
Other news