BY STEFAN ARMBRUSTER
Queensland's Supreme Court has barred two Aboriginal traditional owners and their representatives from returning to a ceremonial camp they set up at the controversial Adani mine site.
The mining giant won its bid for a court order against Wangan and Jagalingou man Adrian Burragubba and his son Coedy McAvoy, after the court found the men had threatened to continue to enter the Carmichael mine site, despite a temporary injunction against trespassing issued last October.
A breach carries a possible prison sentence.
Last August the two men set up camp and a ceremonial site on the property after the State Government extinguished native title over the 1,385 hectares of Wangan and Jagalingou land in Queensland's Galilee Basin.
Mr Burragubba has brought numerous court actions against the proposed Adani coal mine and has declared bankruptcy due to costs.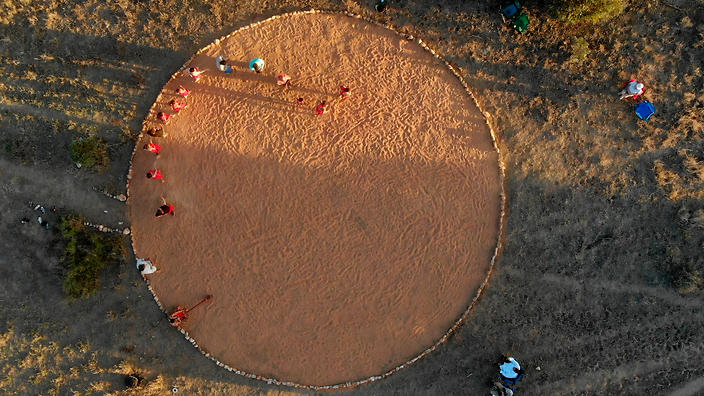 A ceremonial site was set up by the W&J Traditional Owners Council on the mine site.
Mark Doyle
Supreme Court Justice David Boddice accepted evidence from Adani that statements posted on social media as recently as March constituted threats to enter.
"I find that the applicant (Adani) has established the respondents and those they represent (Wangan and Jagalingou Traditional Owners Council) have trespassed on the land and there is likelihood of a repetition in the future," Justice Boddice said.
"They have no legal right to enter or remain on the land," he said.
He added there is a "great risk of injury and death" to employees and trespassers as the mine site is constructed.
Justice Boddice said Adani has responsibilities under workplace health and safety laws and disruption to the worksite would cause "unnecessary cost" and "significant ongoing expense" that could not be compensated by awarding damages later.
Mr Burragubba and Mr McAvoy did not have legal representation and did not appear at the hearings, a decision Mr Burragubba said was because "the rules were already set against us".
"This move by Adani simply continues the injustice against us. Adani had already secured its legal entitlements against my rights and interests. But they continue their vindictiveness, and spying on us, because we refuse to concede," Mr Burragubba said in a statement.
He said they had not returned to the ceremonial site since being confronted by Adani's security last year.
The post about "Indigenous activists permanently barred from Queensland's Adani mine site" appeared first on the SBS Australia website.
***
To engage in the latest trends, developments, and opportunities about mining and resources across Australia and Latin America, join our community at Mining & Resources Group.
Not yet a member? Get connected and be inspired by more incredible Latin American and Australian professionals. Join the growing Somos21 Community.
---
Other news