By David Prestipino
The McGowan government will not bring forward phase 4 coronavirus restrictions to boost attendance at the first AFL game in Perth where crowds will be permitted.
Victorian powerhouse Geelong will host Collingwood on Friday July 17 at the 60,000-seat Optus Stadium, just a day before WA loosens restrictions to allow a capacity crowd of 60,000.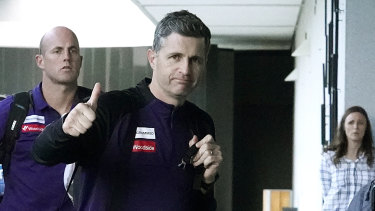 WA Health Minister Roger Cook on Thursday dismissed calls to allow a bigger crowd but said the expected crowd of 30,000 would still be the biggest seen "pretty much anywhere in the world" since COVID-19 shut down sporting leagues across the globe.
That is until the Sunday evening, when a capacity crowd is tipped for the 51st Western Derby between cross-town rivals Fremantle and the Eagles, who would have returned from their Gold Coast hub the previous weekend and been in isolation at home.
Although it was West Coast's turn to host the next derby, it's the Dockers who have been given home-ground rights in a move expected to cost the 2018 AFL premiers in excess of $2 million at a time when the Dockers have struggled more than West Coast to stay afloat financially.
While the Eagles and Dockers are clear to quarantine at home for a fortnight – given they would have flown home from Queensland where the COVID-19 situation is under control – the Victorian teams will stay at the Crown Resort just a few hundred metres from where they'll play and train at Optus.
The AFL said Collingwood and Geelong would each play a block of three matches in Perth before the WA hub welcomed another two Victorian teams on a rolling basis.
The western hub has boosted local prospects for the AFL season despite West Coast and Fremantle spending a week longer than they had intended.
As many as 90,000 fans will head to the footy in a mere 36 hour period during the blockbuster round seven announced by the AFL on Thursday afternoon but WA Police Commissioner Chris Dawson stressed patrons had to act sensibly at games and confirmed they would be barred from training sessions.
The bumper turnout will put smiles on faces at league headquarters, which has already lost millions of dollars this season.
Rookie Fremantle coach Justin Longmuir will feel the fire of his first derby, and said the home game was a boost for Fremantle.
"It will be great for our footy club to be able to get our first real home game for the year, the fact that there's going to be 60,000 people there is an added bonus that we probably didn't expect," Longmuir said.
While the Dockers have embraced life on the Gold Coast, Longmuir said the club was happy to have an end date and return after the round six clash with Melbourne at Metricon Stadium on July 11.
"We've enjoyed our time here. All along we've said we're willing to stay four to six weeks and we'll embrace it," he said.
"Just to get that clarity of when we're going home and how the quarantine works and who we'll be playing next is great for the families back home. It's really settled them and it's great for our players."
Longmuir said players would train and visit the club for meetings only as required once they returned home.
"Our understanding is we'll get an allotted time we are allowed at the club," he said.
"We'll have to make the most of that time because, outside of being at the club, we're going to have to be at our homes locked away.
"We don't like having the players around the club for the sake of being around the club."
The post about "'World record' sporting crowd tipped for AFL bonanza in Perth" first appeared on the WA Today website.
***
To engage in helping and supporting our Latin American community impacted by the COVID-19 crisis, seek or share information, events, news, forums, and critical connection and collaboration opportunities during this time of mass isolation, join our community at COVID-19 Support Group.
Not yet a member? Get connected and be inspired by more incredible Latin American and Australian professionals. Join the growing Somos21 Community.
---
Other news