Victoria records 75 new coronavirus cases as authorities warn 'it will get worse before it gets better'
By SBS Australia
There have been 75 new COVID-19 cases recorded in Victoria, health authorities announced on Monday.
"There is a net increase of 71 cases as four previous indeterminate cases have been reclassified," Health Minister Jenny Mikakos said.
It is the state's fourth-highest daily total since the start of the pandemic.
"This takes us to a total of 2099 confirmed cases of coronavirus in Victoria," Ms Mikakos said.
"Thankfully, we have no new deaths reported overnight, that number remains at 20."
The new cases included;
14 linked to outbreaks
37 were detected through routine testing
23 still under investigation
One case in hotel quarantine
The state has recorded cases in the double-digits for 13 days in a row.
There were 41 new cases on Saturday and 49 on Sunday. The majority have been locally acquired.
'Get worse before it gets better'
Victorian Chief Medical Officer Brett Sutton called the new numbers "absolutely concerning".
"I think it will get worse before it gets better," he said on Monday.
Mr Sutton left the door open to suburban lockdowns.
"It is absolutely an option and we flagged the possibility of using it and we will use it if it is required."
"It would be a harder step but it has to be proportionate ... We know that it is a real challenge for businesses, it is a real challenge for people in their homes if that is what is required."
Mr Sutton also said the effective reproduction number has come down, "but it is not below one".
"It needs to be below one in order to drive numbers down," he said.
"What I would say is that we know what works already. We just need people to do it."
"So that means runny nose, sore throat, fever, whatever the symptoms are, stay-at-home, get your test, don't interact with other people until you have that test result back and you are well."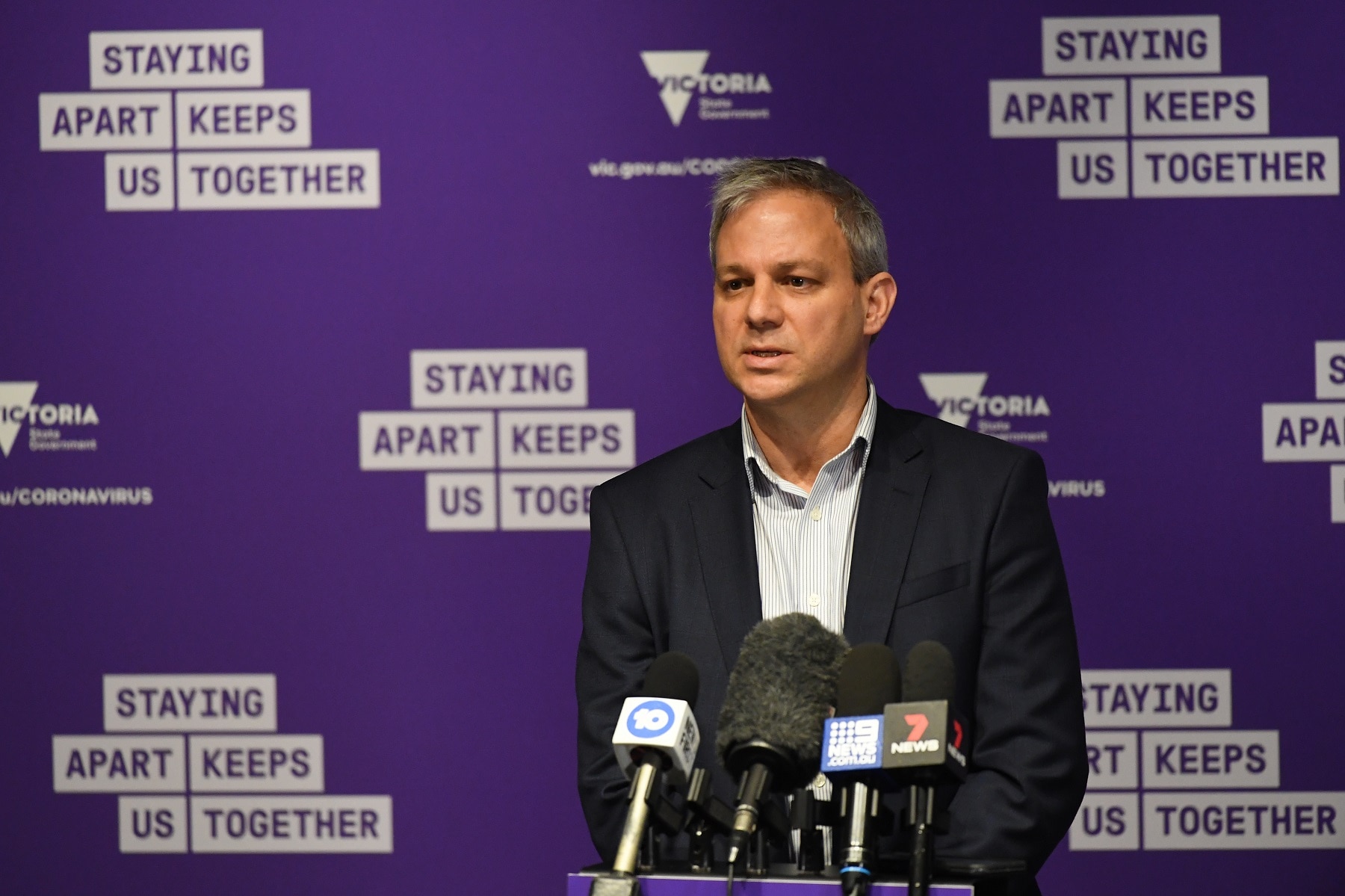 Victoria's Chief Health Officer Brett Sutton
AAP
Authorities also said cases had been recorded at six schools.
"Obviously there have been school holidays, those schools are already closed and all the schools will be thoroughly cleaned and there will be contact tracing involving both staff and students," Ms Mikakos said.
She also detailed how Victoria is using an "Australian-first saliva test".
"It has enabled young children to be tested ... doing the traditional swab testing can be very uncomfortable for children as well as people with dementia and nursing homes, people with disabilities and others."
Prime Minister Scott Morrison was asked about the new numbers moments after the announcement.
"The increasing number of cases that we are seeing and Victoria, while of great concern, is not surprising, given the nature of the outbreak we are seeing there at the moment," he said.
"At this point, no additional support has been asked for from the Victorian premier."
'Pandemic is not over'
The federal government's chief nursing officer Alison McMillan said the outbreak in Victoria was a stark reminder to the rest of the country.
"This is very serious and we all need to take note. As we have warned, this pandemic is not over," she told reporters on Monday.
"We have seen an enormous achievement in Australia, but now is not the time to be complacent. We all need to keep doing the right thing."
Ms McMillan urged people to get tested if they developed cold or flu symptoms or lost their sense of taste or smell.
"If you are sick, please stay at home. This really does mean don't have visitors around, don't go to the shops, and definitely going go to work," she said.
"Because those other places where you will spread to other people."
'This is not a second wave'
Earlier, Deputy Chief Medical Officer Michael Kidd said the growing number of cases in the Victoria was "of genuine concern" but maintained the commonwealth government fully supported the way the outbreak is being handled.
"This is not a second wave," he told reporters in Canberra on Sunday.
"What we're seeing in Victoria is exactly what was planned when we have outbreaks occurring across the country."
READ MORE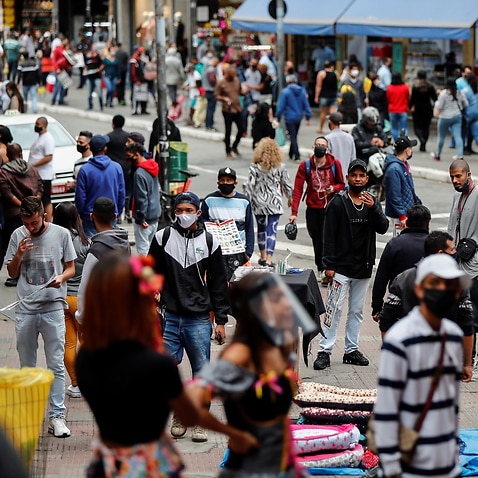 The Victorian government is conducting a testing blitz in an attempt to prevent further spread of the virus, which prioritised the suburbs of Broadmeadows and Keilor Downs at the weekend.
Eight other suburbs in Melbourne's west and southeast are next on the list, also identified as having high levels of community transmission.
The government is also imposing mandatory testing on returned overseas travellers in hotel quarantine after it was revealed about 30 per cent were refusing to be tested.
Less-invasive saliva tests are also being rolled out.
Professor Kidd said authorities are keenly watching to see how they work out.
"The saliva test may be more appropriate for people where swabs are more difficult and that might include young children or very elderly people," he said.
He also issued a reminder to all Australians that vigilance, particularly among younger people, is needed to prevent the spread of COVID-19.
"Many of the people who have been infected so far in the outbreaks in Melbourne are, well, young people, often with only mild symptoms," Professor Kidd said.
"You may not get sick or very sick ... but if you pass the infection onto your parents or your grandparents they could become very unwell, they could even die."
NSW reported seven new cases of COVID-19 on Monday from more than 11,000 tests, all in returned travellers staying in hotel quarantine.
South Australia reported three new cases on Monday. These were also in returned travellers staying in hotel quarantine.
The post about "Victoria records 75 new coronavirus cases as authorities warn 'it will get worse before it gets better'" first appeared on the SBS Australia website.
***
To engage in helping and supporting our Latin American community impacted by the COVID-19 crisis, seek or share information, events, news, forums, and critical connection and collaboration opportunities during this time of mass isolation, join our community at COVID-19 Support Group.
Not yet a member? Get connected and be inspired by more incredible Latin American and Australian professionals. Join the growing Somos21 Community.


---
Other news